<!sdlbk written by J Huntley WA1ZYX>
SADDLEBACK MOUNTAIN
WA1ZYX/R
449.450 MHz 123.0PL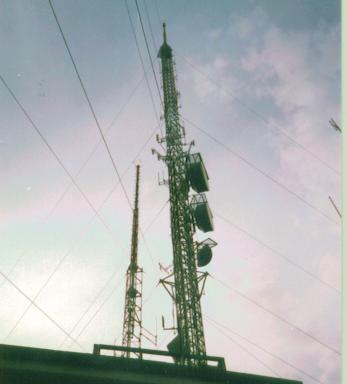 The Mountain
Saddleback Mountain is located in Rockingham County, in the Town of Deerfield, New Hampshire. This is the location of New Hampshire Public Television's Channel-11, Main Transmitters. From the Office window of building, you can see the Isle of Shoals.
You can also see the Seabrook nuclear plant. (The local saying at the Mountain is "When she glows, we goes").
So far so good in that area!!!!

The Equipment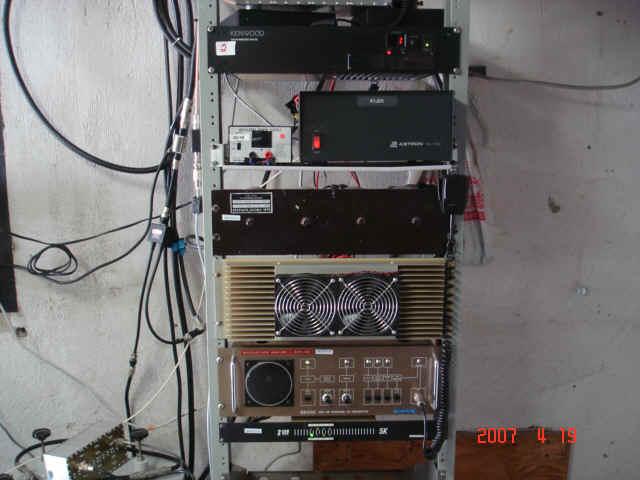 The Repeater equipment consists of an Icom RP-3010 UHF repeater driving an outboard Power Amp. The repeater is putting out about 50 watts.
We then feed a set of Wacom Duplexers, about 400 feet of Andrews 7/8 Heliax to the Celwave Super StationMaster Fiberglass antenna which is mounted about 350' up the Main tower.
As of August 10th, 1999, I replaced the former controller with an S-Com 5K, which was removed from the UHF Keene Machine when the 7K went on-line there. The new controller will give the repeater a new sound and tons more flexibility in addition to remote control which I've never had on it until now. (Shhhhhh).......
If you'd like to see a couple more photos of the Saddleback Repeater site, go to this page.


The Repeaters Coverage
The Saddleback UHF Repeater is on Saddleback Mountain, in the town of Deerfield, NH. This mountain is where New Hampshire Public TV's main Channel 11 transmitter is located. This location will provide coverage from Boston to Portland along the seacoast, I-95 and parts of 495. It provides mostly full quieting coverage into the York Beach Maine and Hampton Beach areas.

WebMaster WA1ZYX

If these pages don't look right, you're not using:

Download it now!
Saddleback Mountain | Saddleback Repeater Site | Cannon Mountain | Cannon Repeater Site | Temple Mountain | SWNH Node System
Mt Kearsarge |Winter Wonderland | Surry Police | CCDX Home | ZedYX Index | NH Police 10-Codes
© 1999 Zed YX WebPages All Rights Reserved

Monday, September 10, 2007 10:05 AM